Newport Software NSWatch provides a quick and easy way to monitor your children's computer activity. Easy to use software provides real-time screen snapshots and activity logs. Computer activity can be viewed using Internet Explorer. A free trial version is available.
Features:
Monitors activity on a computer.
Screen snapshots show real-time images of activity on a computer.
Activity log tracks the in-use applications.
Configuration program controls which users are monitored.
Access to activity information using Internet Explorer.
Activity information can be viewed from any computer on your network.
Details:
Using Internet Explorer, it is easy to view the activity on your computer. The main activity page shows a summary of the activity on the computer including user names, last screen snapshot time, number of captured images, and the last activity time. Here is an image of the main activity page: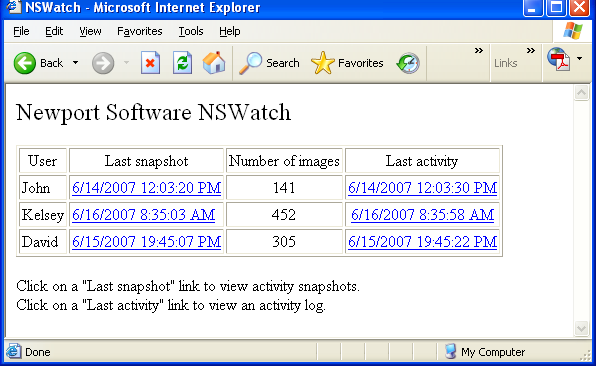 Clicking on a "last snapshot" link will display small images of recent screen snapshots from the monitored computer. Each snapshot can be expanded to a full size image by clicking on the snapshot. Search criteria can be specified on the page to change the number of displayed images and the date/time of the displayed images. Below is an image showing the snapshot page of a monitored computer: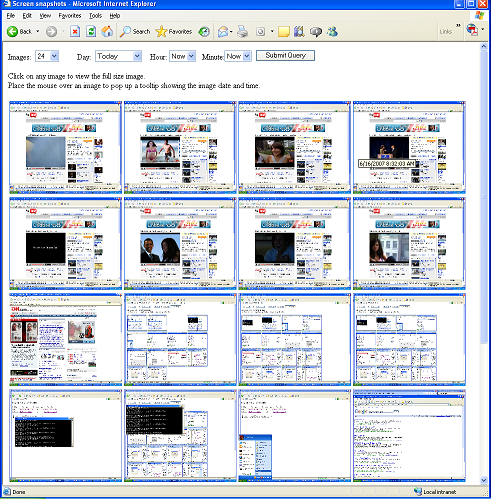 An activity log shows recent activity on the monitored computer. The activity log includes the date/time, program that was running on the monitored computer, and the title of the window which was active. Below is an image of an activity log of a monitored computer: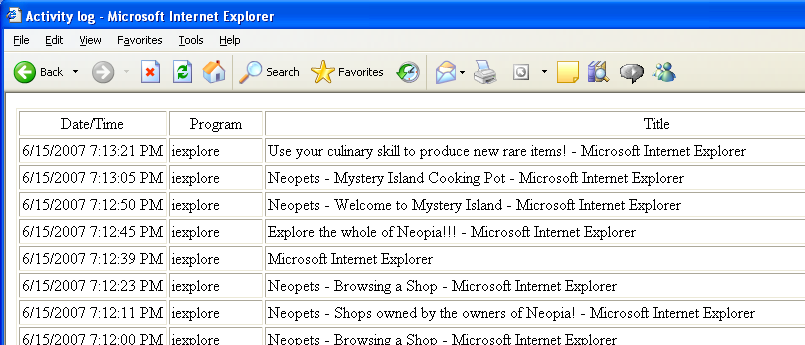 Requirements:
o Windows XP SP2.
o Internet Explorer 6.0.
o Microsoft .Net Framework.
Copyright © 2014 Newport Software | Contact