Newport Software CryptFast is a fast and easy utility to encrypt and decrypt your documents. CryptFast uses Rijndael / AES encryption to create secure documents.
Features:
Strong Rijndael / AES encryption using a 256 bit key and Cipher Block Chaining (CBC).
Easy to use Windows interface.
File name can be entered via text box, browse dialog, or a drag/drop operation from Windows Explorer.
Password verification to help ensure that the password was entered correctly.
Automatically determines whether to encrypt or decrypt files.
Details:
The Windows interface is simple to use. Simply specify the file name and password to encrypt or decrypt a file. Below is the user interface: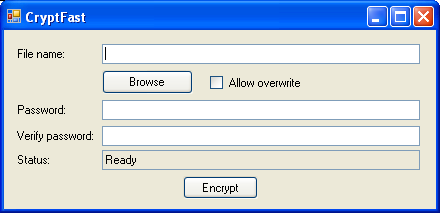 Enter a file name by typing in the text box, using a browse dialog, or drag and drop from Windows Explorer.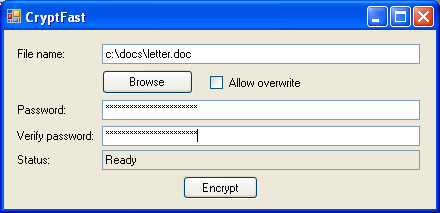 Click on the Encrypt button. The Status field will update indicating when the encryption has completed.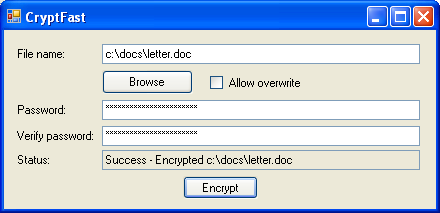 Copyright © 2014 Newport Software | Contact